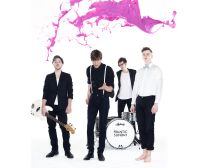 It happens onstage. It happens between the wild optimism and the razorblade groove. It happens between the discipline and the mania. It happens between the music and the dreams. Frantic Sunday is first and foremost a live band. Sweat and passion are highly regarded.

Frantic Sunday played together for the first time on the last Sunday of September 2008. But what began humbly at the club Agaton in the hometown of Uppsala grew in one year to gig at Sweden"s biggest festival, debut in the U.S. and critics from near and afar raving over the band"s live shows and recordings. And the audience is just as euphoric.

A high life, an unbeatable now, a realisation that it happens when audience and artist are one. That"s the realisation that makes every gig with Frantic Sunday unique.