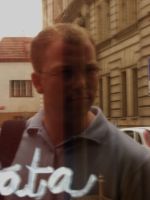 I made up my way trough solo piano performace in small revenues up to lead guitarist parts in rock and jazz bands while playing around with electronic music as well.

I like to experiment a lot while playing at home, on the street while busking or on stage. Taking some risks to explore new musical horizons by playing various instruments and creating various sounds, beats and noises in order to create small musical mosaics, rough pieces and sketches expressing live in its diversity.
Thats always fascinated me when making music. Its like a journey that starts somewhere and eventually leads you to a place you never would have expected in the beginning. Like waking up in the morning without knowing where to spend the next night. And the most fascinating about it are the people you met on the way, people you connect with for some really intense moments and people you will of course part from in the end.

Speaking of which: Travelling has been and still is a huge inspiration for me. Getting the chance to know new places, new people, new tastes, new smells, new feelings really keeps me going on. Since a few years now I am living in Prague Czech Republic (thats another story...) , but I still travel a lot around europe (France, Germany, Netherlands, UK, Italy), playing and writing.

That`s why I`d like to see my songs as "sketches from a long journey".

All these experiences and influences find their way into my music.

I hope you`ll enjoy listening to it!