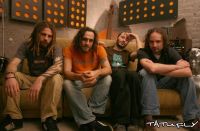 Tatufly? is Mehmet Firils solo project.
Mehmets music life started in 1993 as a bass guitar player. He developed his guitar technique playing with bar groups covering popular MTV playlist songs of the time.

Until 1998 Mehmet periodically played with different bar groups and finally he started playing with a group that had already released an album. While Mehmet was performing with Nekropsi, a succesful Avant Garde band in Turkey, he found himself playing in the Istanbul support band for the World Tour of Robert Plant - Jimmy Page Band. Mehmet continued playing with Nekropsi while they were working on their second album project and then handed over his place to Patrick Chartol.

In 2000, Mehmet met Gulus Gulcugil Bettyween (www.bettyween.com). Although Gulus initially planned a solo project, she later decided to form a band. Cem Omeroglu Nekropsi (guitar), Kaan Sezyum Sidharta (drums) and Sinan Gungorer (guitar / synth) joined the band. Mehmet played bass guitar with Bettyween during the album preparation period for about a year but left the band when the project changed its initial concept.

In 2002, he worked as the producer of an album called Home Sapiens. In this album he released one of his own songs (Nowhere).

www.homesapiens.org
The heart of the Home Sapiens project comes from Mehmets idea of putting 14 musician friends making different types of music together in the same album. The musicians in the project were all friends and the songs were all non-commercial experimental pieces but they were all very well known by underground music world (Nekropsi, Kurban, Bettyween, N-Closer, Playground etc.). All of the songs were edited and recorded by the musicians at their home studios and they were also mixed in those home studios. At that time, most of the musicians on the album were studying on the sound engineering masters program at the Advanced Music Research Center (MIAM) at Istanbul Technical University (ITU); therefore the whole project was overseen by one of the Sound Recording Technology tutors, Peter Snapper. Meanwhile, the project was also used as an assignment.

In this project, composition, recording, mixing, mastering of the songs, as well as cover graphic designing and web site were done by the musicians. The concept of the project was giving the musicians artistic feelings to the listeners for no commercial benefit.

At the same time, Tatufly started working on his solo project in his home studio. In this small studio, his life experience and deeper feelings started coming to life as a diary of sound and lyrics. In his solo project he performed and recorded all of the instruments. Along with accoustic and electric instruments he mostly very efficiently used the advantage of PC technology. As he describes his music as psychedelic Avant Garde, considering that lyrics could have prevented the real power of his musical concept, he composed the whole project as an instrumental. In a chronology, every song has a verbal story but these were only letters he wrote to himself. In such a period when musicians and artists could not be really appreciated, music was only a commercial culture and experimental albums were considered just a waste of time Tatufly continued his project and aided his songs with symbols and images. He also cooperated with his film maker friends and they decided to make a short film for each song. The idea of those short films was to present the whole project as one big story and also to give the spirit of his music and the story of Tatufly to audiences at concerts.

The album is called Somewhere around Nowhere and contains 16 songs. A demo of this project was noticed by Elec-Trip Records in 2005. He moved the project from his home studio to a professional recording studio and during this period he gave songs to 2 different albums. In This Room was released on the Istanbul Calling2 album and City of Lost Children was released on From Istanbul to Constantinopolis produced by EMI Records.

Tatufly faced big difficulties performing his songs live. Therefore at the end of 2005 he added some other musicians to the project in order to perform his music on stage. KAAN AKAY plays drums and ERKAN ALKIR plays electronic drums. Since he could not find a guitarist who could totally adopt his music, Mehmet, naturally a bass player, added MURATAY OZKAN as bass guitarist and Mehmet himself plays lead guitar and synth. The Tatufly project is no longer a solo project.