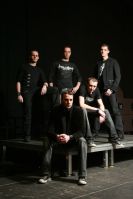 Created in spring 2005, PALE OBSESSION spent a whole year practicing and working to reach the level of music they wanted to.


What first began as a common project of bandleader and singer Joe MAY and keyboarder Christian KRIER became a coherent band during 2005. At the end of 2005, the actual line-up of PALE OBSESSION had found together, regrouping, beside the 2 founders, Marc GOERGEN as drummer, Luc COLJON on guitars and Christophe GROBEN on the bass.


A lot of work, consisting in uncountable evenings at the rehearsalroom and a huge amount of practicing hours, was necessary to write and ameliorate each one of the songs. In spring 2006, PALE OBSESSION decided to record a CD including 4 of their actual songs as a first presentation to the public.

A week in July 2006 was spent at the Waltzing-Parke Studios in Dommeldange (L) to record our first CD, called "Songs of love and death". According to the name, the 4 tracks on the CD will lead you into a suppressed world where love and death become one...


All those words and thoughts mixed to melancholic piano melodies and rocking guitar riffs guided by Joe MAY`s uncommon and outstanding voice will take you to your deepest and darkest thoughts about love, sorrow, desire and even death...

Only a few days after the publishing of our first single "Between the shades", the song went above all our expectations and became a Number 1 Hit on our radio charts. We now want to take the chance of this unexpected success to get our music produced, spread it as far as possible and play as many gigs as we can...