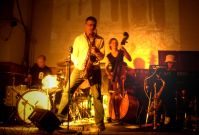 SOAP was founded in 2001 in Berlin, Germany.

Since all 4 members of this invincible band had grown sick & tired of playing jazz-music nobody really wants to dance or party to, they had to figure out a way to make improvised music more appealing for a young berlin audience that wants to be entertained without any challenge. The answer was easy: everyone likes TV (even those who don"t know yet) - and TV is no challenge at all. So they put a few computers on stage along with all these acoustic, electronic and somewhere-in-between instruments and messed up all their childhood heroes" theme music. There was only one directive: anything may happen - anytime.

Evolved beyond that, today SOAP comes up with a fine repertoire of very special songs. You wouldn"t call it compositions though - it"s all session-grown material - constantly developing...