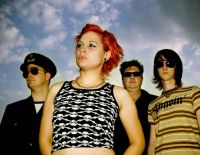 The Flight story!
Now boarding:
A rhythm section with a punky drive, a guitarist that choses his own course on sonic airstreams and a female singer with attitude. Add this together and you"ll get Flight195. A band that outruns the course height of Guano Apes or Skunk Anansi. Firm alt. rock with kerosine burned live energy. Flight195 aims for nothing less than stratosphere. Drift away with Flight195 on a journey to the unlimited skies!

During their first 2 years they"ve already done 85 shows, including open air festivals, followed up by tours through Italy, Switzerland and Germany.
Since their first three demo CD"s, they"re currently building their way to a first album.

Flight195 have supported acts like Clawfinger, Dog Eat Dog, 5 Bugs, Treekillaz, Drive by Wire, Dune,Goldrust, The Harries, Green Hornet, Willard Grant conspiracy,Transmissionary 6, Hotel, Santo Barrio and Che Sudaka.

JC : vocals
Alex : guitar, backing vocals
Paul : bass, screams
Flow : drums, backing vocals

Crew:
PAUL plays his punky bass lines with a sonic drive and a big smile, while ALEX brings in the harmonics. He supports the tunes with powerful chords, jumping around with his guitar as if he can"t quite believe he can"t leave the ground without wings. Drummer FLOW is the charismatic captain of the crew, leading the band with simple yet heavy beats. And lead singer JC has no problem at all topping this solid mix with her jet-fuelled vocals.