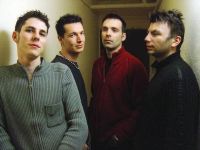 Some music represents more than a heap of sound samples. MotherKingdom"s definitely does. It affects, disturbs, questions, moves you deeply and shakes preconceived ideas up. It"s not worth trying to resist to Didier"s rough and plaintive voice, you just can"t! His wild singing, either aggressive or gripping, will be sure to remind you that great singers are the ones who let their eyes and heart speak. Olivier"s pounding, like an oak standing behind its barrels, moves inexorably in cataleptic hammering, while Eric"s bass, not without composing a hypnotic metronome, distils a soft poison. Laurent lets his guitar ring and sail over the musical wave.

Exploring different facets, sometimes powerful, sometimes melancholic, of an original and genuine rock, MotherKingdom invites you to an initiatory trip in quest of yourself and your emotions. Melodic enough to satisfy people keen on real pop, but disturbing enough to appease alternative music fans" appetite, the rock played by this talented quartet won"t leave anybody indifferent.

Promoted master in the art of alternating relatively aggressive moments with some more serene atmospheres, MK won the bet to create a musical mosaic that is rich and heterogeneous. It is a constellation of atmospheres and contrasts in which love is never really far from rage and darkness from a bright interval. You"re not sheltered from a breaking or a bump, a storm or a lull. Between easy melodies and dissonant tunes, between power and harmony, MotherKingdom doesn"t have to choose. They just have to be themselves and pass on their energy.